On the cover...
Luxurious custom-built home
in desirable Southcliff
Contact Will Towery
at Allen Tate/Beverly-Hanks REALTORS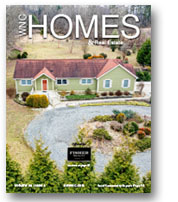 History of
WNC Homes & Real Estate
WNC Homes & Real Estate is a publication wholly owned and operated by AVL Media, Inc.and contains information about real estate in Asheville, NC and surrounding areas.
Founded in 1988 as a response to the need for a publication that would best serve  REALTORS®, the public and real estate in the Asheville, NC area, WNC Homes & Real Estate now circulates in seven counties.
Copies of WNC Homes & Real Estate may be obtained if you are in the area. You may pick them up FREE at more than 300 locations. Obviously you already know about the website.
We'd like you to become one of our advertisers.
Send us an email
to learn more.